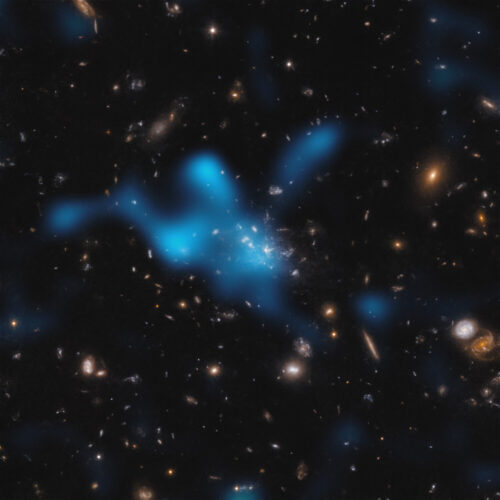 The ALMA image of the Sunyaev-Zeldovich effect (in blue) in the cluster containing the Spiderweb Galaxy (MRC 1138-262) overlaid on a Hubble Space Telescope image of the cluster. Credit: ESO/Di Mascolo et al.; HST: H. Ford.
Cycle 10 ALMA Call for Proposals
Deadline: 10 May 2023 15:00 UT
The ALMA Cycle 10 Call for Proposals is now open. This cycle will offer approximately a total of 4300 hours of observing time scheduled between 01 October 2023 and 30 September 2024, and the new capabilities for Cycle 10 will include Band 1 observing on the 12-m Array, which will be available from March 2024 onwards. Additionally, it will be possible from Cycle 10 onwards to submit Joint Proposals with the James Webb Space Telescope, the Karl G. Jansky Very Large Array, and the Very Large Telescope.
More details are available in the announcement. The deadline for proposal submission is 10 May at 15:00 UT.
Sixth European ALMA Regional Centre Community Assembly
17 April 2023 10:00 BST
In conjunction with the Cycle 10 Call for Proposals, the European ALMA Regional Centre will be holding a virtual community assembly to discuss new developments for the upcoming cycle. Very specifically, the meeting will focus on the procedures for submitting Joint Proposals with other observatories. However, the assembly will also include a discussion about Band 1 observing and other new capabilities that ALMA will have in Cycle 10.
The meeting will be on Microsoft Teams and can be accessed via this link. This information is also available in the announcement on the ESO website.
Crowdfunding Campaign to Establish a Planetarium in San Pedro de Atacama
Emeritus ALMA director Thijs de Graauw is leading an effort to crowdfund the construction of a full-dome planetarium in San Pedro de Atacama, ALMA's host community, in recognition of the community's contributions to ALMA. The proposed planetarium would have a diameter of 8 meters and a capacity for 50 people.
The estimated cost for the planetarium and hence the goal for the crowdfunding campaign is about 100000 US dollars. To donate or to find more information, go to the GoFundMe page.
Lily Walker
UK ALMA Contact Scientist Daniel Walker recently became a father. His daughter, Lily Walker, was born on the morning of 8 April. Please join us in congratulating him on this special occasion.