Meet the UK ARC Node
Video Credit: Ana A. Alpizar
ALMA Creates New Images with Unprecedented Angular Resolutions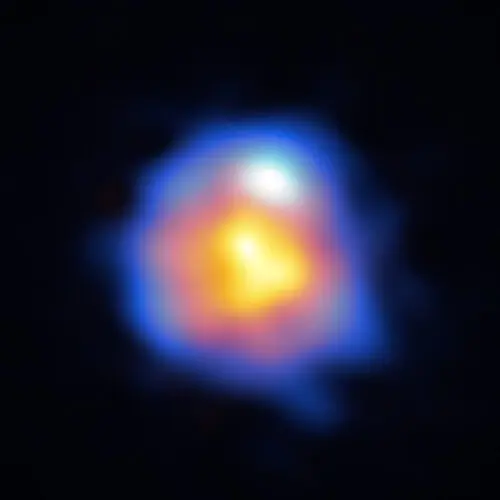 The ALMA Band 10 image of R Leporis. Credit: Y. Asaki - ALMA (ESO/NAOJ/NRAO).
An international team of astronomers (including former UK ARC Node scientist Anita Richards) have generated the best angular resolution images of a star ever. Using ALMA's Band 10 receivers and an array configuration spanning 16 km, ALMA was able to create images of the evolved star R Leporis, including its maser with angular resolutions of 5 milliarcseconds. These results illustrate what can be achieved using ALMA's highest frequency band and will hopefully lead to new research possibilities with the telescope.
See the press release for additional details. General information about the observing campaign have been published in the Astrophysical Journal, and details about the R Leporis results specifically are also now published in a separate paper.
Update on Cycle 10 Observations
The ALMA transporter Otto has now been repaired and has been used to reconfigure the array. However, the first visits to configurations C-3, C-4, C-5, C-6, and C-7 during this cycle will be shorter than originally planned. The configuration schedule has now been updated to reflect these changes. Please contact the Helpdesk if you have specific concerns about your own observations during Cycle 10.
The Promise and Challenges of the ALMA Wideband Sensitivity Upgrade
24-28 June 2024
ESO
Garching, Germany
The Wideband Sensitivity Upgrade is one of the most ambitious upgrades to ALMA since it began science operations. This upgrade will lead to significantly improved observing times for spectral scan and continuum observations, but it also introduces new technical challenges as well. This workshop will be an opportunity for the science community to discuss the science that could potentially be done following the upgrade, and ALMA will also use the workshop to solicit and receive feedback about the work.
More information is available at the meeting website and this announcement. Note that a registration fee of €75-€150 will be applied.
Limited Spaces Left in the 2024 European ALMA School
The European ALMA Regional Centre network is organising an ALMA School for ALMA users that will be hosted by the UK ARC Node on 10-14 June 2024 in Manchester. This school is designed to provide training on a broad range of aspects related to ALMA, including interferometry, data calibration and imaging, the ALMA archive, analysis techniques, ALMA science, and future ALMA developments.
Registration for the meeting is now open at this link. Note that the meeting is in-person only and will be limited to approximately 80 - 90 participants. Only a few spaces are left. Registration will remain open until 31 December 2023, but people are advised to register early to avoid being placed on a waiting list.
For more details, please visit the meeting website. The full meeting details are currently being finalised, and the meeting website will be updated regularly with more information and announcements, including upcoming information on:
A detailed agenda for the meeting.
Warnings when the registration numbers begin to approach the meeting limit on participants.
Discounted block-booking hotel accommodation near the venue.
Detailed information on the venue and the city of Manchester.
UK ALMA 2024 Hybrid Workshop
19-21 February 2024
Alan Turing Building, The University of Manchester
Manchester, United Kingdom
This workshop will provide an introduction to ALMA and instructions on how to work with data from the observatory and will include sessions on preparing proposals, downloading data from the ALMA archive, calibrating and imaging ALMA data, and using advanced ALMA-related tools.
This workshop will be conducted in a hybrid format with participants having the option of either attending the workshop in person at the University of Manchester or joining online. More details will be provided later. While the workshop is aimed primarily at novice ALMA users, particularly from the United Kingdom, other users with higher levels of experience or from other locations are also welcome to attend.
To sign up, click on this link. Registration will close on 15 December 2023. For more information about the workshop, see the workshop's webpage.
Social Media Poll
The UK ARC Node is looking for additional ways to communicate with the professional astronomical community. We have therefore launched a poll asking about people's use of social media to get information related to professional astronomy.
The poll is accessible through this link. We have extended the survey and will collect responses until 21 December.